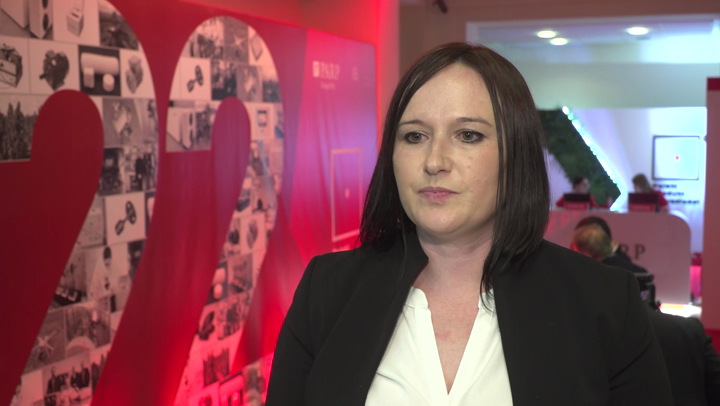 The antibacterial action of nanosilver will allow to avoid infections which are a serious complication after implantation surgery. Researchers from AGH University of Science and Technology developed the first laryngological implant made of polymer material covered with a thin layer of silver. It will be a chance for patients to recover faster after the operation. However, the process of market implementation and reimbursement of the solution will take several more years. So far the device has been implanted in patients as part of a clinical trial.
Otoimplant is a middle ear prosthesis with a bactericidal effect. It is made of medical polymer and contains silver nanoparticles. Its task is to reconstruct a chain of earbuds, often destroyed in the course of diseases, injuries, congenital defects. The second function of the prosthesis is to eliminate bacteria and fungi that often appear in the course of inflammation," says Newseria Innowacje agency, Dr. Magdalena Ziąbka from the Faculty of Materials Engineering and Ceramics at the AGH University of Science and Technology in Krakow.
Although the materials used in modern implantology show high biocompatibility, bacterial infections after implantation still remain a problem. In dentistry the most commonly used material is titanium. Researchers from the Agharkar Research Institute have successfully modified the implant surface, depositing a thin layer of nano-silver on it. The coating provided a controlled release of silver for up to 22 days, maintaining a long-term antibacterial effect. Human gingival fibroblast cells can multiply in the vicinity of nanosilver coated implants, making the implant fully biocompatible.
Solutions, which are an opportunity for dentistry, are also expected technologies in otolaryngology.
There are many solutions on the market of medical devices for otolaryngology. However, all these solutions lack our idea, i.e. the bactericidal function. Implants are commonly available metallic. Our implant is made of polymeric material. So we ensure lightness of construction, and additionally silver nanoparticles eliminate bacteria - explains the expert.
The laryngological implant developed by scientists from AGH University of Science and Technology may contribute to a significant shortening of the convalescence period of patients undergoing the procedure of its implantation. The use of nano-silver, whose bactericidal effect has already been confirmed, will also contribute to a significant reduction in the administration of antibiotics in the perioperative period. However, the full implementation of the solution will still have to wait.
The very introduction of the product is very difficult because we have to strive to obtain a medical device certificate and consequently try to introduce it to the list of reimbursed products, making it more accessible to a wider group of patients. The project is at the implementation stage, otoimplant has been implanted in six patients who had a hearing loss. In all of them, subjective improvement of hearing was noted - says Dr. Magdalena Ziąbka.
According to the analysts from Market Research Future, the global market of medical implants will record annual growths of 7.5% until 2023.
/ Source Newseria